Ageless Rejuvenation Set
Unwrap the gift of timeless beauty this Christmas with our Ageless Rejuvenation Set. This exclusive bundle features a lineup of powerhouse skincare products, each designed to address multiple signs of aging. Achieve a radiant and youthful complexion in no time. Give the gift of ageless beauty this holiday season.
Regular price

$327.00 USD

Regular price

$431.00 USD

Sale price

$327.00 USD
Skin type
Skin condition
Results
Share
Loyalty program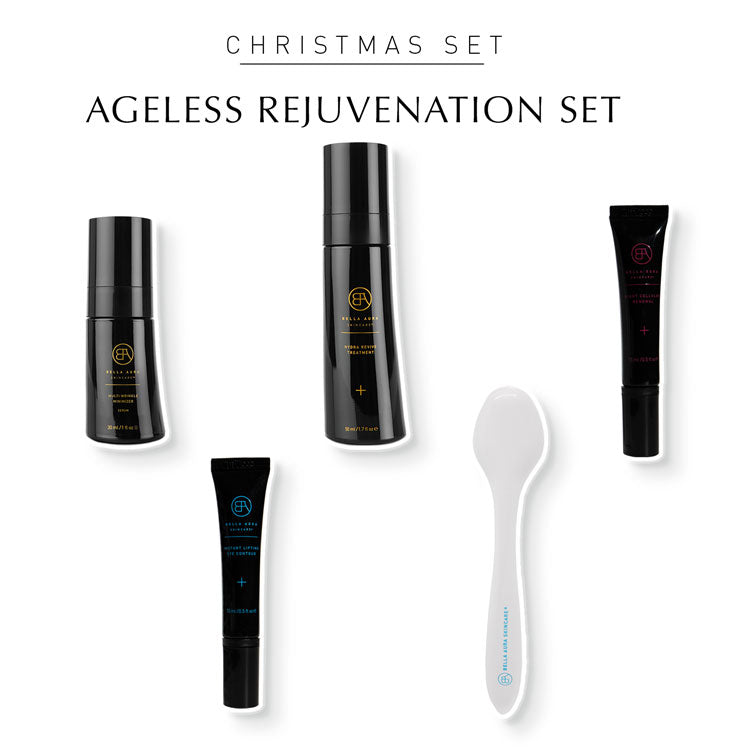 Scientifically-formulated
DETAILED DESCRIPTION
Introducing our Christmas Ageless Rejuvenation Set – the ultimate gift of ageless beauty for yourself or your loved ones. This carefully curated bundle includes five remarkable skincare products that work in harmony to transform your complexion, helping you look and feel your absolute best.
Multi Wrinkle Minimizer Serum: Turn back the clock with this 10-in-1 serum. It's your secret weapon against wrinkles, fine lines, and dullness. Experience immediate tightening and slimming effects that leave your skin looking more youthful and radiant. With every application, watch as wrinkles seem to vanish, pores appear smaller, and your skin gains a protective shield against the harsh effects of the environment.

Hydra Revive Treatment: Say hello to dewy, bouncy, and youthful-looking skin. Our 8-in-1 serum is a lightweight, fast-absorbing hydrating powerhouse. It's packed with Polyhydroxy Acids (PHAs) that not only defend your skin against free radicals but also improve your skin tone. Enjoy up to 72 hours of continuous hydration, thanks to our unique time-release delivery system. Your skin will glow with renewed vitality.

Night Cellular Renewal: Unwind and let this luxurious 7-in-1 serum work its magic while you sleep. It's designed to improve your skin's firmness, elasticity, hydration, texture, and tone. Enriched with antioxidants, amino acids, and Traditional Chinese Medicine, it delivers intense, long-lasting hydration and promotes skin regeneration. Wake up to a nourished, plumper, and firmer complexion with a radiant luminosity that will have you feeling confident every day.

Instant Lifting Eye Contour: Your eyes will thank you for this 6-in-1 Eye Contour treatment. It's the ultimate solution for minimizing the appearance of wrinkles, dark circles, and puffiness. Experience a boost in firmness and elasticity around your eyes while safeguarding your delicate skin from environmental damage. Look refreshed and revitalized, no matter how busy your holiday schedule.

Eye Renewal Lifting Device: Our Eye Renewal Lifting Device is like a spa day for your eyes. It's expertly designed to soothe and smooth the delicate eye area. Dark circles and puffiness are reduced instantly, leaving your under-eye area looking refined and rejuvenated. This device is your secret weapon for bright, youthful eyes all season long.
This Christmas, give the gift of ageless beauty with our Ageless Rejuvenation Set. It's the perfect present for anyone who deserves to look and feel their best during the holiday season and beyond. Unwrap the joy of youthful, radiant skin this Christmas.
How to use

Key Ingredients

All ingredients